来源:Pig Progress
How difficult can it be to design a good pig pen? It pays off to understand and incorporate normal pig behaviour when designing them, writes housing and welfare expert Vivi Aarestup Moustsen.
设计好一个猪舍有多难?理解并把猪平常的行为融合进去,将会有所帮助,猪舍设计及动物福利专家Vivi Aarestup Moustsen如此说道。
All pigs need a place to eat and drink, to rest and sleep and to dung and urinate. So it ought to be easy to design pens. And yet, the function of pens varies so much between herds. Often small changes or details make a difference.
所有的猪都需要一个吃喝、休息、睡觉以及大小便的地方,因此设计猪舍应该很容易。然而,猪舍的功能在不同猪群之间差别很大,通常小改动或细节会产生很大影响。
A common characteristic for the features below, were, that they were designed based on sow behaviour and motivation and sow and piglet dimensions. This is a prerequisite for pen designs – also for sows and piglets in the farrowing unit.
以下几个案例的共同点是,都基于母猪行为、动机,以及母猪和仔猪尺寸设计的。这是猪舍设计的先决条件,同样也适用于分娩舍的母猪及仔猪。
Example 1 – Improving quality of lying area in pens with ESF
案例1——改善采用电子饲喂系统的猪舍中的躺卧区域
A herd build for loose gestating sows prior to January 2013 and decided for Electronic Sow Feeders (ESF) and stable groups, so 1 week of sows (about 60 gilts and sows) in each pen. Within each pen the lying area was divided by walls to make it more attractive for the sows, see below.
这是2013年1月之前为一个散养母猪群设计的猪舍,当时预备采用电子饲喂系统(ESF)和稳定群,每个猪舍有约60头母猪和后备母猪。猪舍中,躺卧区域由墙体隔开,使其对母猪更具吸引力。见下图。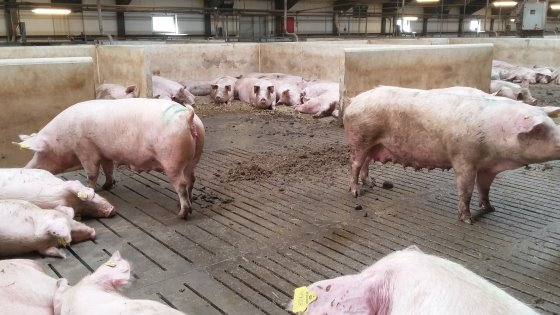 Typical lying area in ESF pen with high partitions in the lying area. Photo: Vivi Aarestrup Moustsen
ESF猪舍中典型的躺卧区域,中间有高隔板
However, the sows very often defecated and urinated in the transition area between the lying area and the activity/ dunging area, which cause extra work, higher ammonia emissions and risk of the floor being slippery. Then, different positions and height of walls were tested. One treatment had low walls (40 cm high and 200 cm long, which is a sow's length), see image below.
然而,这些母猪经常在躺卧区域和活动/排泄区域之间的过渡区排便或排尿,这造成了额外的工作量,增加了氨排放量,并且加大了地板滑溜的风险。因此,对不同的墙体位置和高度进行了测试,其中一种使用了低墙体(40cm高、200cm长,这也是母猪的体长)。见下图。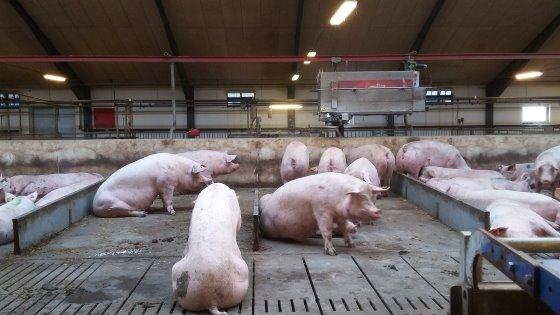 Lying area in ESF pen with low partitions. Photo: Vivi Aarestrup Moustsen
ESF猪舍中应用了低墙体的躺卧区域
This gave the sows walls to lie by, it gave the caretakers a much better view of the pens, and lying areas were cleaner and drier, which will benefit sow conditions too. An extra benefit with as opposed to higher walls, is improved air quality because of the air being shifted.
这样的墙体既给了母猪依靠的地方,同时也让工作人员能够更好地观察栏舍情况,再者,这样一来,躺卧区域也更加干燥、干净,这也有利于母猪的生长。而与高墙体相比,还有一个好处,由于空气可以流动,空气质量因此也得到了改善。
Sows are less than a meter tall, and when lying down 45-55 cm 'tall', so a wall of 40-60 cm is sufficient to make it attractive to lie next to it.
母猪身高通常不到一米,躺下时,一般45-55cm高,因此,40-60cm的墙体就足以吸引它们靠着卧下。
Example 2 – Motivate loose sows to dung in specific part of the pen
案例2——培养散养母猪在猪舍特定区域排泄
With inspiration from the Netherlands, a 'dunging wall' was introduced last year in the activity area, where caretakers in the Danish herd experienced that sows like to stand by when dunging.
从荷兰的经验获得了灵感之后,去年在活动区域引入了"排泄墙",丹麦的猪场工作人员在活动区域发现,母猪排泄时喜欢站着靠在墙边。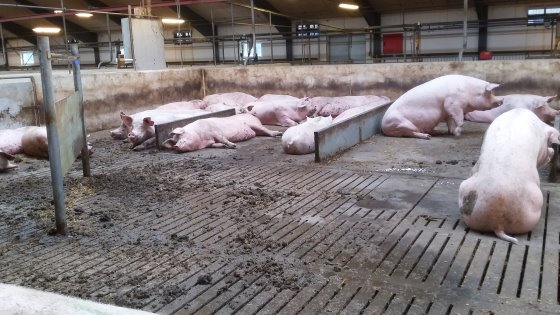 As for the dunging wall, which is meant for the sows to 'stand behind' but not lie by, it's important that it's raised above the floor by about 40-50 cm. The Dunging wall (far left) is to further motivate dunging to occur in a specific part of the pen. Photo: Vivi Aarestrup Moustsen
排泄墙的作用是母猪站在旁边而不是躺着,需要注意的是,这个墙体比地面高出40-50cm。排泄墙(最左)是为了让母猪到特定区域进行排泄
Example 3 – Farrowing pens for loose sows
案例3——散养母猪群的分娩栏
A few months ago, the Loose Lactating Sow workshop was held in Copenhagen, Denmark. There, sow and piglet models scaled 1:10 were used when discussing potential pens for loose lactating sows, see below.
几个月前,分娩母猪散养研讨会在丹麦哥本哈根句型。当时,讨论到可用于散养分娩母猪的猪舍时,用了母猪和仔猪比例为1:10的模型。如下。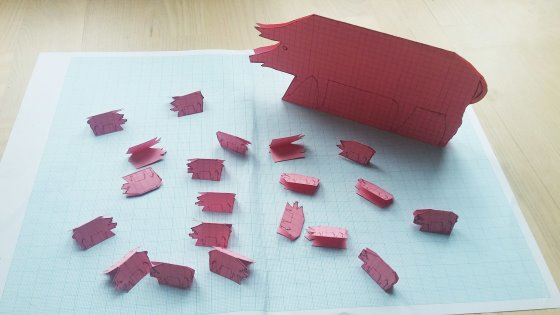 A sow and her 1 week old piglets, at a scale of 1:10. Photo: Vivi Aarestrup Moustsen
一头母猪及其1周龄大的仔猪,比例为1:10
In farrowing pens for loose sows, it is also very important to take in to account the behaviour and motivations of sows and piglets; dimensions of sows and piglets and motivation of caretakers to make the best designs for both the sows and the piglets and their caretakers.
在设计散养母猪的分娩栏时,非常重要的一点,是要把母猪及仔猪的行为、动机,母猪及仔猪的尺寸,工作人员的动机考虑入内,才能设计出对三者来说最佳的栏舍。
Piglet mortality is an issue – not the least if the sows are loose, and the main cause of death is crushing. However, for a piglet to be crushed it must be near the sow and sow must move. So as one initiative to reduce crushing, work is ongoing to design areas – safe zones – for the piglets that are attractive to them and then reduce the risk both along pen sides and in the creep, see the picture below.
仔猪死亡率是个问题,并非因为母猪散养,主要的原因是碾压。但是,只有仔猪靠近母猪并且母猪移动了,仔猪才会被碾压。为了降低被碾压的风险,正在设计一个安全区域——一个可以吸引仔猪的区域,见下图。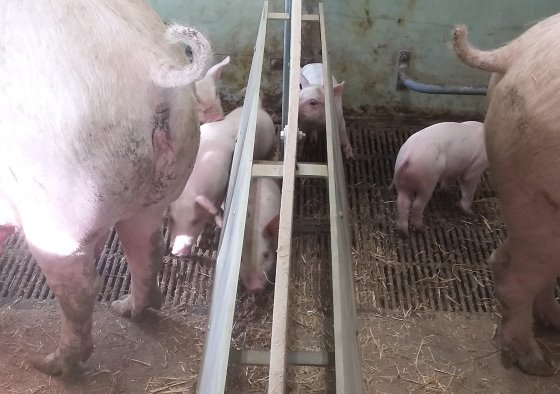 An example of the importance that the distance between the lying wall and the pen division is at least the shoulder width of a piglet for the piglets to pass unhindered and reduce risk of crushing. Photo: Vivi Aarestrup Moustsen
躺卧墙及分隔墙之间的距离至少应是仔猪的肩宽,让仔猪可以无障碍通过,从而降低被碾压的风险
Taking into account dimensions of piglets
把仔猪尺寸考虑入内
For the creep this includes both taking into account dimensions of piglets – and sows, so they don't enter the areas too – and motivation for piglets such as temperature, structure, surfaces, odours and maybe sounds too.
设计间隙时,应当把仔猪的尺寸,以及会吸引仔猪的因素,如温度、结构、表面、气味,甚至声音都考虑进去,同时也要考虑到母猪的尺寸,这样母猪才无法进入这个区域。
Another example is if piglets are given supplementary milk in the farrowing pen, it's important that they have good access to the milk – so take into account shoulder width and length of piglets when placing the milk cup.
另一个例子是,假如给分娩栏中的仔猪额外补充乳汁,那么很重要的一点是仔猪可以便捷地喝到乳汁,因此在放置杯子时,也应考虑到仔猪的肩宽和体长。
(文/爱猪网记者刘坤颖编译,爱猪网原创请勿转载)