上篇提到,泰高动物营养公司(Trouw Nutrition)等机构正在计划进行一项新研究,通过获取生猪行为等数据,打造大数据平台,最终增强可持续生产,提高生猪福利。
本篇将接着讲述该研究的具体操作以及各方在其中担负的责任。
Focus on young animals
幼年动物是研究重点
The research goals will zoom in on young animals, as they are a key focus for Trouw Nutrition anyway. Mrs Beerthuis says, "We are particularly interested in young animals as we believe that is where the foundation is laid for a good and efficient life production. Think of finisher pigs, growing them is less challenging than raising young pigs successfully. That is why it pays off to know more about them."
这项研究的目标将集中在幼年动物身上,因为无论如何,它们都是泰高动物营养研究的重点。Beerthuis女士说:"我们对幼年动物特别感兴趣,因为我们相信这是一个良好和高效的生命生产的基础。成功饲养幼猪比饲养育肥猪更具挑战性。这就是为什么多了解它们是值得的。"
Apart from Trouw Nutrition, the research programme involves the Dutch companies Noldus and Sorama and the Netherlands-based academic institutes Radboud UMC and Wageningen University & Research. In total the programme costs € 4 million, of which, part will be covered by European research grants and regional grants from the Dutch Gelderland province.
除了泰高动物营养,该研究项目还包括荷兰的Noldus和Sorama公司,以及荷兰的拉德堡德大学(Radboud UMC)和瓦格宁根大学研究中心(Wageningen University & Research)。该方案的总费用为400万欧元,其中一部分将由欧洲研究补助金和荷兰盖尔德兰省的区域补助金支付。
Each party will have an own part to play within this collaborative research project:
各方将在这个合作研究项目中发挥各自的作用:
· Trouw Nutrition will focus on welfare-related precision feeding as well as development of nutritional additives with (in vitro) models, data science and behavioural studies to support the health and improve performance.
· 泰高动物营养将专注于与福利相关的精准喂养,并通过(体外)模型、数据科学和行为研究开发营养添加剂,以支持健康、提高性能。
· Noldus, headquartered in Wageningen, the Netherlands, is specialised in behavioural research and will play an important part in providing sensors and develop the 'Intelligent Behaviour Research Platform (IBRP)', where all the data will come together and be made accessible and easily usable.
· 总部位于荷兰瓦赫宁根的Noldus专注于行为研究,将在提供传感器和开发"智能行为研究平台(IBRP)"方面发挥重要作用。在IBRP中,所有数据将汇集在一起,变得易于访问和使用。
· Sorama, based in Eindhoven, the Netherlands, has developed a 3-D video camera which is able to capture, distinguish and interpret sounds, their patented technology is enabling the researchers to localise these sounds exactly. The company has a broad experience in applying this technology in many fields, but not in agriculture.
· 位于荷兰埃因霍温(Eindhoven)的Sorama开发了一款3d摄像机,能够捕捉、分辨和解读声音。他们的专利技术使研究人员能够准确定位这些声音。该公司在许多领域应用这项技术有广泛的经验,但尚未尝试用于农业领域。
· At Radboud UMC in Nijmegen, the Netherlands, the Donders Institute for Brain, Cognition and Behaviour is a research centre devoted to understanding the mechanistic underpinnings of human cognition and behaviour in health and disease. This university is included in the research project to learn more about the specific relationship between mother animals and their offspring. Zooming in on rats, on a neurological basis – they aim to discover what can influence the behaviour of the young rats and learn on this level.
· 荷兰奈梅亨的拉德堡德大学(Radboud UMC),唐德斯大脑、认知和行为研究所(Donders Institute for Brain, Cognition and behavior)是一个研究中心,致力于理解人类在健康和疾病方面认知和行为的机制基础。这所大学被纳入研究项目,以了解更多关于母兽与其后代之间的具体关系。在神经学的基础上,他们对大鼠进行放大——他们的目标是发现什么可以影响幼鼠的行为,并在此基础上学习。
· Wageningen University & Research is involved to develop models on so-called 'intestinal organoids'. These are cell cultures of intestinal stem cells which can be used as a model for an entire gut. The models will be used to source effective nutritional additives based on specified characteristics and will lead to fewer pigs being needed for trials.
· 瓦格宁根大学研究中心(Wageningen University & Research)正在开发 "肠道类有机物"模型。这些是肠道干细胞的细胞培养物,可以作为整个肠道的模型。这些模型将用于根据特定的特性寻找有效的营养添加剂,从而减少试验所需的生猪数量。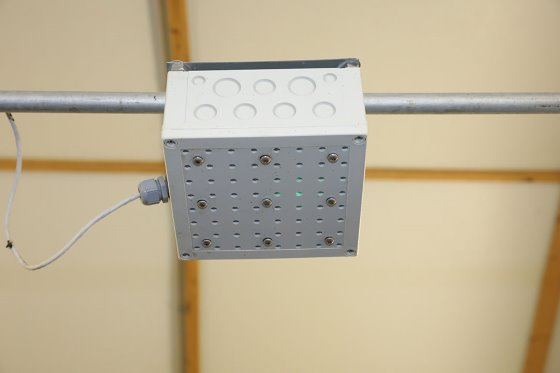 3-D camera by Sorama. Photo: Henk Riswick
Sorama开发的3D摄像机。照片:Henk Riswick
Research farm
猪场研究
To see what it all led to, a first trial set-up can be viewed in the weaner pig section of the Swine Research Facility: their rooms are full of sensors, buttons, displays and wires – and between 8 and 14 weaner pigs to complement that. Apart from detailed water and feed intake sensors, which can measure intake as well as the time the individual animals take for that, several weaner pens now also have a solid cube installed at the top which contains the hypersensitive 3-D camera for capturing sounds. "We expect roughly 4 to be necessary for the entire section," Mrs Beerthuis explains.
为了了解结果,泰高生猪研究机构的断奶仔猪进行了首个试验装置:猪舍里布满传感器、按钮、显示器和电线——8到14头断奶仔猪作为补充。除了饮水量和进食量传感器(可以测量动物的饮水和采食时间),一些断奶猪舍的顶部还安装了一个立方体,里面装有用于捕捉声音的超灵敏3d摄像机。Beerthuis女士解释说:"我们预计整个猪舍大概需要4个摄像机。"
In addition, a temperature device is hanging in the middle of the room, as well as a conventional camera. "Should there be any problem detected by e.g. the 3-D device, then we can rewind with the camera and try to establish what might have happened."
此外,猪舍的中央挂了一个温度测量装置以及一个传统的相机。"如果3d设备检测到任何问题,我们就可以用相机回放,以确定可能发生了什么。"
Meanwhile the pigs themselves, which will stay in these compartments from weaning at 23/24 days until 10 weeks of age, don't notice much of it. One group is chasing after the another, while another is lying together, huddled in a corner.
与此同时,这些猪从23/24天断奶到10周大,都呆在这些隔间里,对此毫无知觉。一群猪追着另一群猪,而另一群猪躺在一起,挤在一个角落里。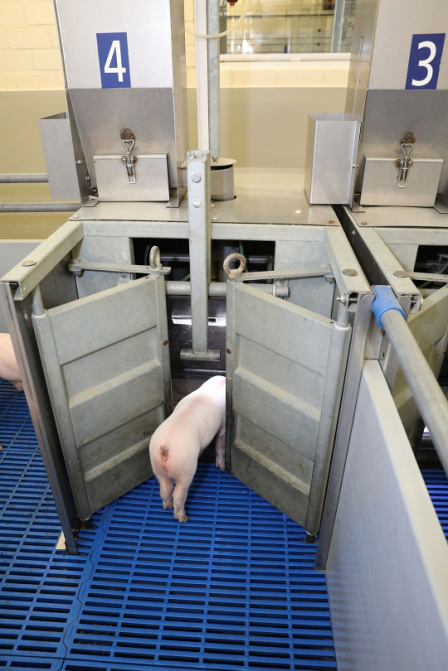 A pig consumes feed while its every move is followed.
Photo: Henk Riswick
猪采食的同时每一个动作都被记录下来。
照片:Henk Riswick
Results
研究结果
In 4 years' time, the cooperating partners hope to know a lot more in detail about weaner pig behaviour and the development of health and welfare related sustainable precision feed and nutritional additives. Even more sensors will be added during the time of the research, the data science teams of Trouw Nutrition, Noldus and Sorama are well equipped to handle large amounts of data which will lead to an enormous increase in knowledge around the effect of nutritional, behavioural and health related interventions – in case useful outcomes are available, these will be communicated, Mrs Beerthuis says. "We aim for a continued increase of sustainability of the lives of production animals. On top, think of having more research data, a lower carbon footprint, lower ammonia emission levels as well as lower manure production levels per kg produced meat or milk."
在4年的时间里,合作伙伴希望更详尽地了解断奶仔猪的行为,以及与健康和福利相关的可持续精确饲料和营养添加剂的开发。Beerthuis女士表示,研究期间甚至会增加更多传感器。泰高动物营养、Noldus和Sorama的数据科学团队有装备来处理大量的数据,这将带来大量与营养、行为、健康相关的干预方面的知识——只要取得了有用的结果,我们会对此进行更多沟通。"我们的目标是继续提高生产动物的可持续性。最重要的是,研究数据更多、碳排放更少、氨排放水平更低,以及每公斤肉类或牛奶的粪便产量更少。"
Eventua lly, if all of this comes together, an exciting platform will be created of which the practical application will not only be limited to only the research partners. Mrs Beerthuis says, "It is our goal that eventually also farmers worldwide will be able to benefit from the platform we create."
最终,如果所有这些结合在一起,将创建一个令人兴奋的平台,其实际应用将不仅限于研究伙伴。Beerthuis女士说:"我们的目标是,最终全球养殖户也能从我们创建的平台中受益。"
来源:Pig Progress
(文/爱猪网记者刘坤颖编译,爱猪网原创,转载请注明出处)